Task 4b Plan
This task involves design, construction, and testing of a 2-story full scale mass timber building with the resilient rocking wall system. The new knowledge that will be generated from this test include:
Behavior of CLT panelized diaphragms at a reasonable aspect ratio
Behavior of CLT rocking wall under a balloon framing configuration over multiple floors (gain system level response data to further update our structural model (from what we developed based on NEESR-Planning data))
Performance of wall-to-floor connection designs under dynamic load transfer demands
Impact of dynamic torsional response on the performance of gravity frame and rocking walls
The specimen is shown below, with an open floor plan and reasonably realistic diaphragm aspect ratio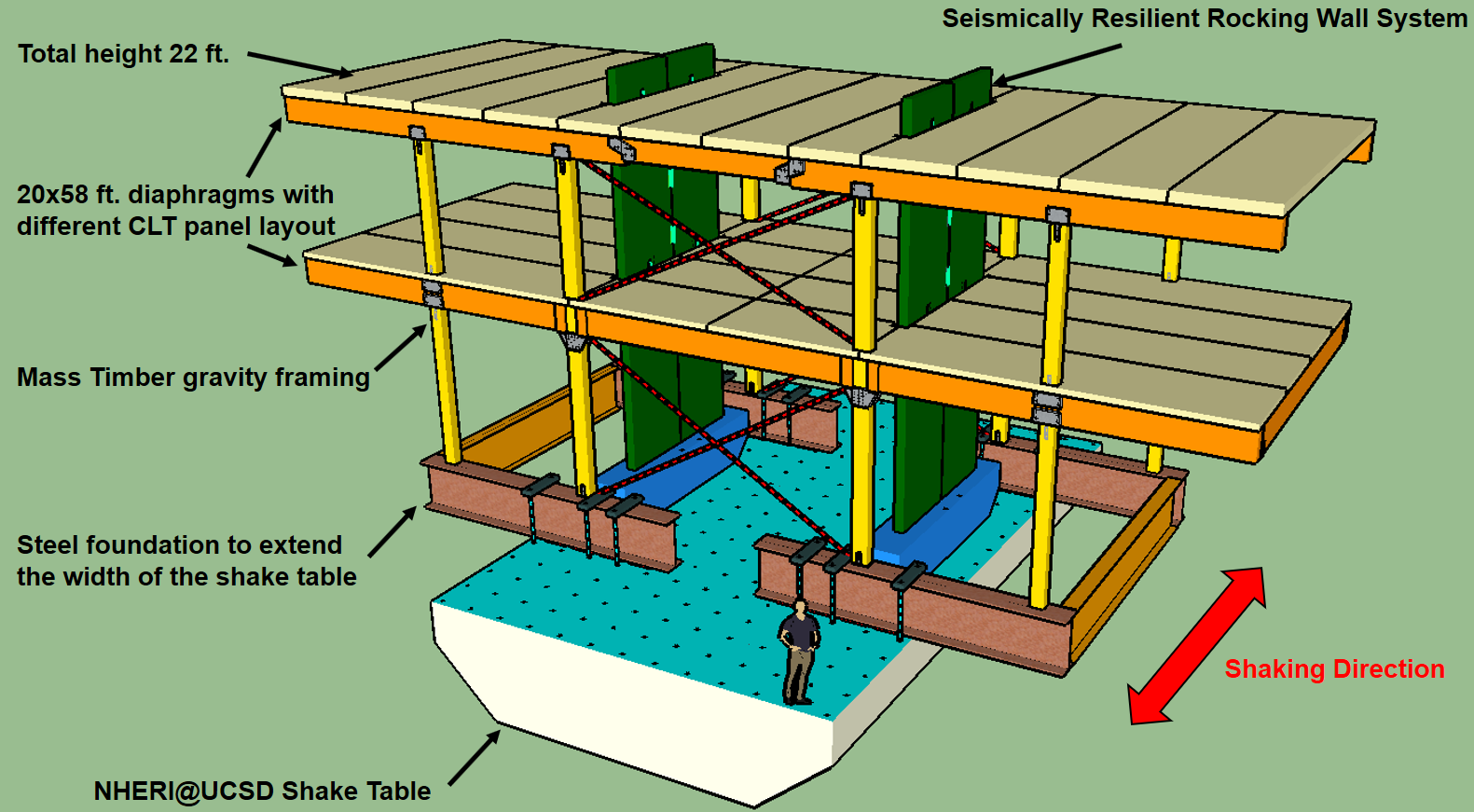 Construction started in June. Testing will start early July.
Collaborators on the Testing Program
Oregon State University's Tallwood Design Institute
Public Test Scheduled 7/13/2017 (already complete)
The project team is currently working on data processing and publishing, papers and reports will come soon.
Test Program Updates
A good INTERVIEW on the investigative 2-story building test in 2017 at NHERI@UCSD
Major findings on the test results will be presented in Mass Timber Conference, Structures Congress 2018, NCEE conference in Los Angeles, and World Conference on Timber Engineering in Souel South Korea.
The testing video from the test 14 can be found in this Video List for interested viewers.
The following are some Photos from the construction and testing program
| | |
| --- | --- |
| | |
| Foundation | Day 1 |
| | |
| Day 2 | Day 3 |
| | |
| Day 4 | Detail 1 |
| | |
| Detail 2 | Student on site |
| | |
| Rocking wall installation | Adding seismic mass |